Empower Asia: Wa Boys Home
As a church we fully finance a boys home in Burma for boys from the Wa tribe. We do this in partnership with Empower Asia. Empower Asia have many home all throughout Asia and their vision is to raise disciplined, passionate men and women who will serve God by serving their communities with integrity and self-sacrifice. www.empower.asia/ We have five boys living in the home at this stage within a Burmese city. Two of our five boys had to run away from their village because they were being "persuaded" to join either the Burmese government army or the Wa army. Boys around the age of 15 years are conscripted. Both armies were trying to get them. We can't show any photos of the boys for saftey reasons but we do have a cartoon.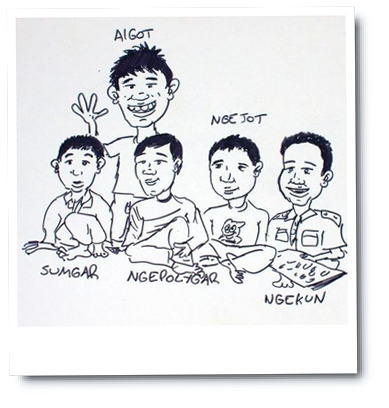 Recently in May 2011 the Burmese army moved in and raped many Wa women. In response ten Burmese schoolteachers were either shot or beheaded by the Wa army. It is not uncommon for boys to simply be picked up by the army and immediately conscripted. The parents having no idea where their sons have gone, only to learn a couple of years later that they were forced to become soldiers.
CASE STUDY: One particular boy is 11 years old but only studies in grade one. This is because he was off labouring to help his parents rather than enjoying the luxury of attending school. If he is smart enough he will be accelerated through the grades. Even though he lives in Burma he cannot speak Burmese. He had nine siblings but seven have died. Two years ago his father also died from an infected leg. His mum is a farm worker. She earns $1/day, enough to buy low grade rice for her family for just two meals per day. This case scenario is a little more extreme than the other boys in the home. For security reasons we cannot display a photograph.
The Wa people live in Burma's mountainous Shan State and are feared and loathed by neighbouring tribes. According to TIME Asia magazine they control some 80% of the world's lucrative trade in methamphetamine. If the boys are not conscipted into the army they are at risk of becomming involved in the drug trade in some way.
Often when we think of the great divide between the rich and the poor in this world we can feel helpless in knwoing what we can do. Through this work in Burma we are doing something small that makes a big difference to these Wa boys.